Nordic VR Forum 2023
November 15 @ 09:00

-

November 16 @ 16:30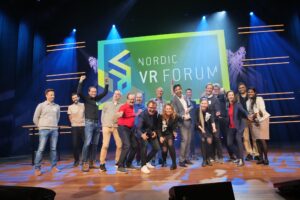 𝐈𝐦𝐦𝐞𝐫𝐬𝐞 𝐘𝐨𝐮𝐫𝐬𝐞𝐥𝐟 𝐢𝐧 𝐭𝐡𝐞 𝟕𝐭𝐡 𝐄𝐝𝐢𝐭𝐢𝐨𝐧 𝐨𝐟 𝐭𝐡𝐞 𝐍𝐨𝐫𝐝𝐢𝐜 𝐕𝐑 𝐅𝐨𝐫𝐮𝐦 – 𝐈𝐭'𝐬 𝐁𝐚𝐜𝐤!
𝐌𝐀𝐑𝐊 𝐘𝐎𝐔𝐑 𝐂𝐀𝐋𝐄𝐍𝐃𝐀𝐑: 𝐟𝐨𝐫 𝐭𝐡𝐞 𝟏𝟓𝐭𝐡 & 𝟏𝟔𝐭𝐡 𝐨𝐟 𝐍𝐨𝐯𝐞𝐦𝐛𝐞𝐫!
Visit our official site at 
https://vrforum.no/
 to stay up-to-date.
The Nordic VR Forum is an immersive exploration of advanced technologies shaping our present and future. Dive into the virtual reality (VR) and augmented reality (AR), with a particular focus on their utilization in healthcare, education, training, and the art of storytelling.
𝐖𝐡𝐨 𝐢𝐬 𝐭𝐡𝐞 𝐍𝐨𝐫𝐝𝐢𝐜 𝐕𝐑 𝐅𝐨𝐫𝐮𝐦 𝐅𝐨𝐫?
This conference is your ticket if you're an innovator, a thought leader, a storyteller, or simply an enthusiast eager to explore new frontiers from learning to storytelling. It's a platform for VR professionals and experts to share and expand their knowledge. Our primary goal is to showcase the evolution, potential, achievements, and future visions of VR and AR technologies through real-world use cases.
𝐀 𝐋𝐨𝐨𝐤 𝐁𝐚𝐜𝐤 𝐚𝐭 𝟐𝟎𝟐𝟐:
Last year, the Nordic VR Forum attracted an international audience of over 450 participants from various fields, including education, healthcare, and IT/Tech. Over 35 speakers from industry powerhouses such as Meta, Microsoft, Cap Gemini, Vizrt graced our stage. They sparked engaging dialogues on cutting-edge topics like Extended Reality (XR) in healthcare, education, storytelling, city planning, gaming, and the metaverse. With representation from 40 different nationalities across 21 countries, the event was a melting pot of ideas and innovation.
𝐖𝐡𝐚𝐭 𝐋𝐢𝐞𝐬 𝐀𝐡𝐞𝐚𝐝 𝐢𝐧 𝟐𝟎𝟐𝟑?
The ambition for 2023 is to exceed previous records, presenting an opportunity you'd regret letting slip! In 2023, the Nordic VR Forum is again embracing a hybrid format, meaning you can tune in from anywhere globally or join us in Hamar for a rich, in-person networking experience.
We look forward to connecting with you at the 2023 Nordic VR Forum – where the future comes alive!